Tale of a Recent Lake Eyre and Outback Trip
Looking for current updates on Lake Eyre water levels? The below article was published back in June 2016. Check out our dedicated page for the latest news and expectations for the spectacular outback phenomenon that is water in Lake Eyre.
==========
Ron Webb's Masterfully Written Experience to Lake Eyre and the Outback
Lake Eyre Trip – Taste of the Outback – June 30th 2016
Six strangers gathered at Kirkhope Aviation, Moorabbin, on a cold and windy Thursday morning;  John and Peter, Lorraine and Judy, James and Ron. Pilot Darron briefed us all and allocated seats. A hostess was required and James filled all the needs. A bumpy ride was forecast and extra fuel would be required at Swan Hill. We travelled in a Piper Chieftain to view Lake Eyre and the Outback wonders of our great Australian land.
Mungo National Park
Lake Mungo of some 40 million years, now desolate and dry. Eric told of Mungo man, Mungo woman and coloured dunes, the dreamtime stories they unfold. Stones and bones he showed us and music of the land he played. Barramundi on the lunchtime menu, most of us enjoy. Relatives of James we meet, how extraordinary they are here.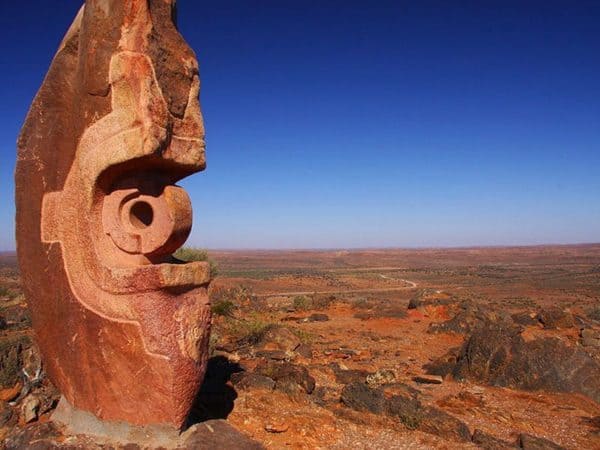 Broken Hill of Iron Ore renown
Also Silver and Zinc is here, underneath the ground
At the Royal Exchange Hotel we dined, grandeur Gold Service if you please
Garlic bread with outback steaks and lamb we enjoy, with tantalising desserts
Prolific galleries, history and unseen mine workings are revealed by Milton
Several buildings are significant for the roles they played, what a town this must have been back in its prime days
Links to the WW2 with terrorist actions and Titanic musicians, this does surprise
Darron calls to check our time, its time fly again, he is on the ball this man and always has a plan.
The vastness of this outback, full of life and reddish hues
With desolation, tracks, trails and water courses.
Across the Strezelecki Desert with deserts and lagoons we fly
Isolated homesteads appear, how do they survive the harshness of this land
Views of Lake Eyre to the West, its vastness we will later see
Some patches of green in this barren land, an oasis of life is sure to abound
Burke and Wills at Dig Tree 1861
The desert stops and green abounds, the Cooper Creek and Innamincka town
Flooded roads have delayed the trippers, but they are on their way
Bourke and Wills passed through here in 1860, the Dig Tree is not far away
Beef burgers are the go for Lunch, the works of art and souvenirs they do astound
Fly over Coongie Lakes at 8,500 feet, this has been a very wet month, so much water we can see
We arrive at Birdsville on the Diamantina River, the Hotel is but a short walk from where we land
Population is only 70, but can grow to many thousands for the Birdsviille Races and Big Red Festival
The Hotel is the iconic stopover for all the Outback travellers, every truck is brown in colour and camper trailers are go
The new Hot Bake with Curried Camel Pies and Doughnuts is a must do stop, but time does not permit a taste
Off to see the sunset views from atop the Big Red dunes, some 40kms West
Wine and nibbles if you please while watching 4WD's climb the dunes
The sunset disappoints, but is still spectacular from this elevated point
The Birdsville bar with hats, flags, photographs and worldwide gifts is something to behold
The menu is changed to suit the many Big Red arrivals, Darron is not pleased as this is not his plan
Pancakes and berries for breakfast are an outback surprise, and a visit to the Bakery to view the Sturt Desert Pea and photo collection was far too short.

Fly to the West over Big Red and turn to the South, only 7 minutes today and 45 last night
At 1000 feet, this Outback country looks really grand, much better than driving on the ground
Along the Warburton River we fly, with channels and lakes aplenty to see
Pelicans are here, where did they come from and how did they know the water had arrived
The many Lakes and feeder channels all shimmer in the morning sunlight
We reach Lake Eyre and what a sight, its vast expanses reach all horizons to the East, West and South
This is a truly amazing sight, one of the world's largest Lakes in the middle of a desert
Many photos taken but they cannot capture or express what we have seen
We land at Muloorina (a place of plenty) Station on the edge of Southern Lake Eyre,
met by the Beagle and a lamb
Cindy greets us with her charm and tells of the family and Station history since 1938
One million acres and 4000 Angus keep them busy, but accommodating up to 35 miners and contractors is a full days task.
Of course the fresh cooked biscuits are especially nice and a hot drink before our trip is most welcome
A 40 minute drive to the Southern Lake edge sounds a treat, but the first wow was, can you believe, Black Swans on the lagoon and Brolga's dancing around
The Lake is vast when viewed from our elevated point, this is where Sir Donald Campbell sped (403.1 mph ?) to a world land speed record in 1963
Assisted by the Government and Army personnel, the road was made and the track was groomed for these attempts
On the Lake edge we walked with fresh made sandwiches in our hand, horizons and mirages, they all astound
No pictures will ever tell the story of what we see
A quick fuel stop at Leigh Creek keeps us safe and sound, then on to Arkaroola, at Balcanoona we land, then a 40 minute drive
The Flinders Ranges they amaze, our guide and driver Doug astounds, botany and geographic formation of the land he explains
Doug had lived here since 1968 but his Grandfather many years before
Shackleton and Mawson were visitors here, this a long way from Antarctica
To the Observatory we travel, to view the starlit universe
Doug explains, names and shows the planets, stars and constellations in this worldwide unique viewing location
This man should be named Doug "ist" – Botanist, Geologist, Conservationist, Astronomist and Physicist, his knowledge is extraordinary
The votes are cast and the television is on, no result is known but where we are the world goes on
Arkaroola Dodwell Observatory
We breakfast and prepare for the 4WD trip to the Arkaroola Ridge Top, beanies, scarves and gloves are on and blankets are supplied
This open transport is something to behold, with ten persons in the back we are very cold
Even Rock Wallabies are scarce, far too early and cold for them to feed
Along ridges, slopes, creeks and gullies we drive, with several stops to view the Ranges
The final pinch to the Ridge Top seems too impossible for us to travel, but at the Ridge Top we arrive and park
Two vehicles on a postage stamp atop the world, and a wheel change is required
Hot drinks and lamingtons we share while Doug "ist" provides more knowledge of this special land
Many photos here from this elevated Ridge, then down we go with lots of squashing in the rear as we ascend and descend at a faster pace
Rock Wallabies are now about and many we now see, no time for talking on this trip, we have a plane to catch
Darron is getting edgy, and rings to check our time, he wants to get the wheels up and head to Mildura for our top up fuel
Lunch in flight is a special treat with sandwiches, cake and fruit to occupy our time
Set course to Moorabbin, at 5.15 we plan to arrive
Our tour is complete and new friends we have made, we got on so well together and assisted where we can
Some 3,800kms we flew with 10 landings to enjoy
A special thanks to Darron, our pilot, host and timekeeper who kept us on the ball
So concludes a sensational four days of iconic Lake Eyre and Outback experiences, which we will forever enjoy and share with family and friends
Thank you to all at Kirkhope Aviation for your planning, attention to detail and ensuring that our trip was a wonderful and fulfilling experience.
Ron Webb
A Kirkhope Aviation air tour to Lake Eyre is the ideal way for you to appreciate the majesty of this beautiful landscape. Most people familiar with the area say the best place to view the lake from land is from the perspective of Halligan Bay (see video), so this is a popular spot for land tours. However, the best way to appreciate the expansive terrain is by air. Kirkhope Aviation's 1 and 2 day air tours to Lake Eyre give you maximum time on the ground and in the air, to capture the beauty and magnificent scenery in the region. Three and 4 day air tours to Lake Eyre incorporate a true 'Taste of the Outback', visiting Innamincka, Cooper Creek, Birdsville, Lake Eyre and Arkaroola on the three day air tour, with the addition of Mungo National Park, Dig Tree, Parachilna & Brachina Gorge on the 4 day Taste of the Outback air tour.
Lake Eyre – Wet or Dry – Don't Miss it
Regardless of whether Lake Eyre is experiencing a rainy season or not, a scenic tour over its unique terrain can be a transformative experience.
 Testimonial – 3 DAY TRIP…TASTE OF THE OUTBACK 5 June 2016
"We were members of the group which flew with Kirkhope Aviation on the 3 day Lake Eyre tour. We both enjoyed ourselves immensely and wish to thank Keith for being such a good pilot, guide and host; he did a great job and took very good care of us all. The tour was everything that we could wish for – there was plenty of water in Lake Eyre (the main reason for our journey) and throughout the surrounding area, Cooper Creek at Innamincka was flowing and Arkaroola was just amazing. We enjoyed every minute of our tour and thank you both for our wonderful experience. Pam and Stan"
If you have been waiting to see Lake Eyre, make 2016 the year to do it.  Visit the tour schedule, or tell us your preferred date if it's not listed.
Share this on Social Media